THE BEST LUNDBERG
JUST GOT BETTER
The new 55-series is out now!
Multipurpose Lundberg more than a wheel loader
A Nordic multipurpose tool carrier for demanding needs of municipal and urban maintenance, facilities management, infrastructure and public works.
Lundberg – the best choice for a tool carrier
A Lundberg tool carrier is the best choice for contract work. Versatile, agile and designed to be the best choice in all conditions, every day of the year.
With the driver in focus, you get a safe, compact, comfortable, quiet and fast machine that you can trust. The possibilities for work are endless and perfect for all types of assignments!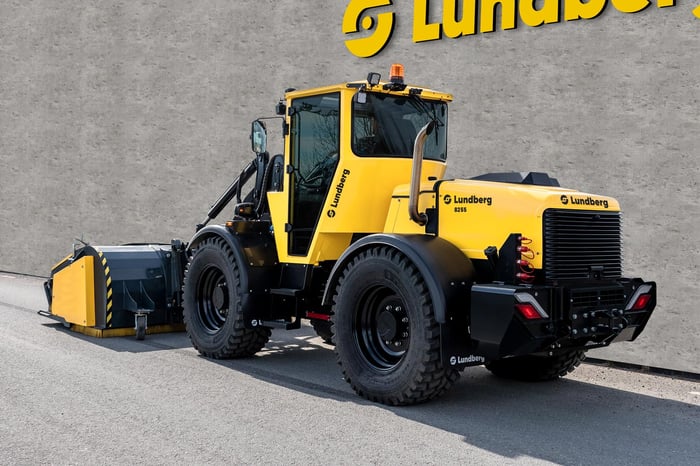 Over 100 improvements makes the new 55-series better than ever
The new 55-series brings many refinements and improvements to this tried, tested and proven machine. Many of the new features are invisible on the outside but improve the machine's usability and comfort. Improvements that you have asked for. These changes make the new 55-series the best tool carrier available.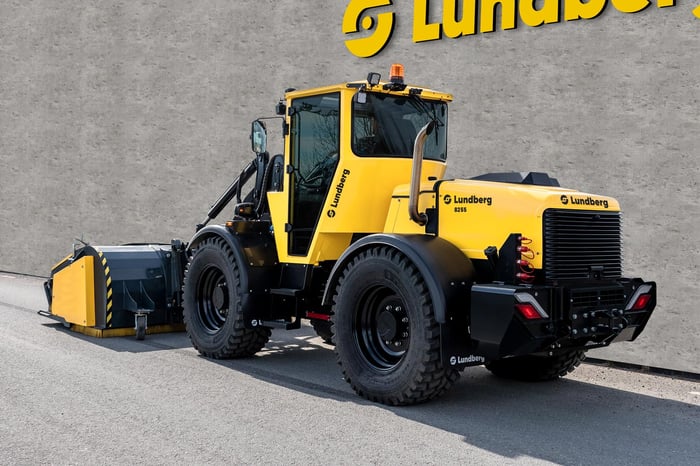 Improved steering
Steering is Improved and faster. The new, larger orbitrol matches the larger steering cylinder introduced in the 50-series. Optional progessive streering makes it even faster.
Better presets for tools
A total of six profiles for tools and accessories. All profiles have a full range of settings available for both front and rear work tools. Profiles can be protected with a PIN-code. Extensive help options provide advice on how to fix conflicting settings. We have pre-programmed the recommended settings for various tools and applications so that you can easily and quickly use them as a starting point for your own adjustments.
New engine
New engine has more power. Continuous power output is 105 kW and 550 Nm of continuous max. torque.
Improved loader for 6255 and 8255
The flow of hydraulic fluid in the loader has been improved and loader movements are much faster than in the previous models. Loader suspension efficiency has also been improved.
Service access
The engine cover front service hatches are now larger and easier to access.
Rear hydraulic connectors
Rear hydraulic connectors are moved to a better and more protected position.
Temperature sensor relocation
New location offers more accurate function of climate control.
Upgraded brakes
New brake pedal provides better modulation and smoother braking.
IOT-ready
The 55-series is plug-and-play compatible for LMCE IOT-solution.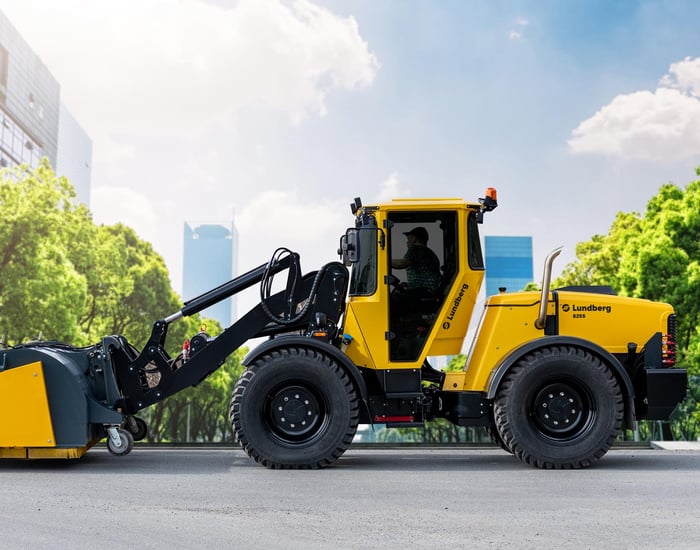 A new leader in versatility and productivity
One Multipurpose Lundberg is capable of tasks which traditionally have required more than one machine types to accomplish. Solid, heavy-duty structure, powerful and versatile hydraulic system along with fast tool changing make it possible to use a wide range of attachments.
The new 55-series takes Lundberg's heritage forward. Our starting point was high operator comfort, improved productivity and versatility, and reduced environmental impact. Increasing performance with less energy consumption and emissions is a challenge we gladly accepted.
Self-cleaning and efficient cooler
A reversible hydraulic fan creates lower sound levels and allows the radiator to self-clean. The radiator and fan are designed so that overheating is not an issue even on hot summer days.
Large mirrors and Cameras
In addition to the large windows, well-positioned mirrors with optional heating, and optional multi-camera systems allow the operator to see every corner of the machine with a glance.
Lights
Modern LED-lights with heated lenses provides plenty of light in dark winter conditions. Optional LED work lights turn the night into a day.
Excellent mobility and stability
Articulated steering with ± 45° steering angle and ± 17 ° frame oscillation means excellent off-road capabilities and class-leading agility and stability. All-wheel drive, hydrostatic transmission, high ground clearance, low center of gravity, optional underbody protection armour and differential locks allow Lundberg to work even in the roughest terrain.
Sliding, removable hood for easy maintenance
The lightweight engine hood slides completely back for easy maintenance. It is easy to remove if even better access to service points is needed.
Four options to connect tools and attachments
A multipurpose machine is at its best when it is multitasking by performing multiple tasks simultaneously or by carrying our successive tasks with a single set of work tools. At each Lundberg, the work tools can be attached to the front loader, on top of the engine hood and to the rear quick coupler. And of course you can also tow with a Lundberg.
Low noise levels
Low noise levels outside the machine are a valued feature in urban work and densely populated areas.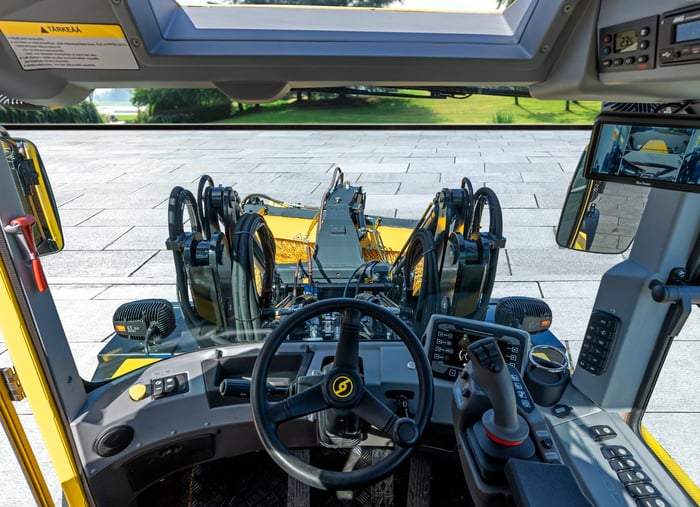 A new leader in comfortability and safety
Unobstructed view is the first requirement for safe working with a tool carrier. Large windshield and windows with narrow pillars, large mirrors, powerful lights, and optional cameras give the operator a clear view of the attachment and what is happening around the machine.
Operator comfort is another requirement. Excellent working environment allows the operator to focus on safety and on the task at hand.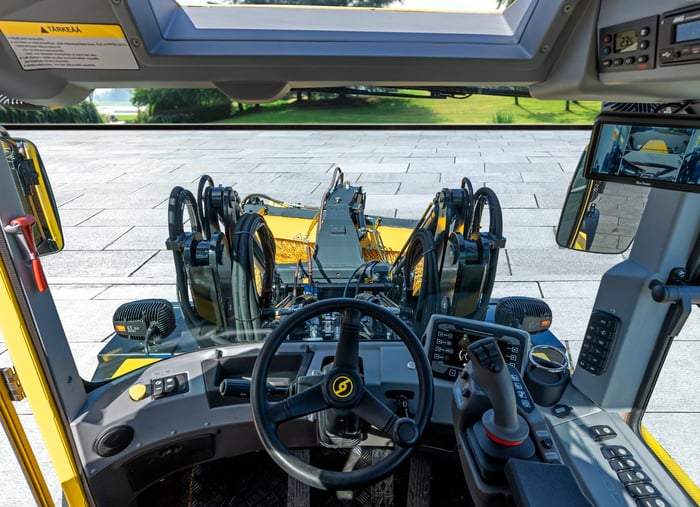 Great visibility
The loader arms are designed to provide the best possible visibility to the work tools. The tools are easy to attach and detach with the hydraulic quick coupler.
Adjustable steering wheel
The steering wheel is height and distance adjustable. Optional progressive steering allows the speed of steering to be adjusted
Clear display
A clear display shows the status of the machine and can be used to change and select presets for tools. Intuitive HMI is easy to use
Ergonomic controls
All the controls needed while working are conveniently located in the joystick or near it. The position and shape of the joystick are designed to be as ergonomic as possible.
Large mirrors and cameras
In addition to the large windows, well-positioned mirrors with optional heating, and optional multi-camera systems allow the operator to see every corner of the machine with a glance.
Climate Control
An optional auxiliary heater preheats the engine and cab in the winter, and the climate control system keeps the temperature comfortable regardless of the weather.
Comfortable and ergonomic seat
All seat options offer great support and comfort. Optional ventilated seats and air suspension take the comfort to the next level.
Low noise levels
The Lundberg cab has always had a class leading noise level.
Audio system
An audio system with Bluetooth, handsfree, DAB and two integrated speakers is a standard feature.
Download brochure: Lundberg 55-series
Want to hear more? Request our sales to contact you with a quote or more details!
Sales
We help you to increase your productivity and responsibility for the environment. Please consult our sales professionals for more information.