Lännen Line systems
For the construction and maintenance of overhead and underground cabling
The construction and maintenance of a weather-safe electricity network and the repair of storm damage and power outages require safe and efficient equipment. The equipment also needs cope with many different types of work, challenging weather and terrain conditions, and tight schedules.
The multipurpose Lännen excavator-loader with Lännen Line Systems is a smart and versatile solution for overhead and underground cabling. One multipurpose Lännen line machine can handle the tasks of several machines and people in network construction, dismantling, and maintenance work, regardless of seasonal and terrain conditions.

Lännen is the perfect choice for the new construction and maintenance of electricity and telecommunications networks, and for the prevention and repairing of storm damage and disruptions to distribution.
Aerial work platform
Lännen L1900 aerial work platform with either a one or two-person quick-mounted lifting basket and a pole crab mounted on the lift. Maximum working height 19 metres
Loader crane
Lännen L1100 loader crane with a work tool mounting and a quick-mounted lifting basket. The loader crane has a rotatable gripper with a turning motor. Maximum working height for the lifting basket is 11 metres.
Front loader mounted loader cranes
The front loader mounted loader cranes, which are also available with the aerial work platform capability, further increase the versatility of Lännen throughout the year.
Multitasking
The multipurpose Lännen is effective and robust. The front and rear tools can be used simultaneously or in successive work stages by changing the direction of travel.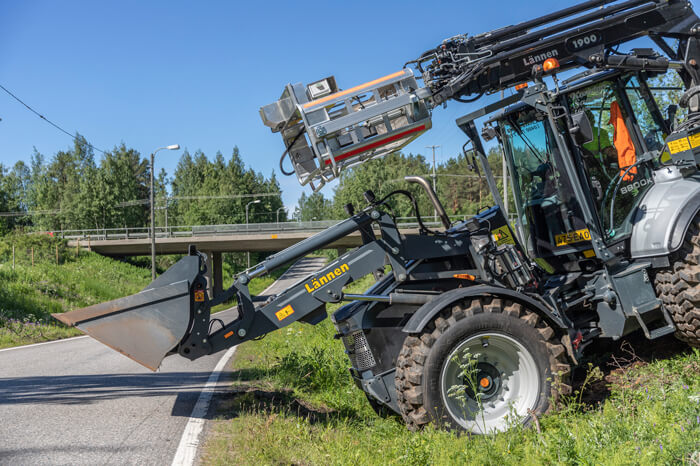 Strong, fast, agile, and off-road
The Lännen line work machine is agile and highly terrain capable. Its large rubber wheels, high ground clearance, axle locks, and hydrostatic transmission provide excellent traction and progress in demanding terrain conditions. A Lännen is fast, economical, and safe when moving between sites as well.


All-in-one for overhead and underground cabling work
The Lännen line work machine can use a wide range of robust and powerful work attachment accurately and safely. It excavates, loads, lifts, transports and does a lot more. It replaces separate utility pole grabs, aerial work platforms and loader cranes, and separate machines used in cable ploughing and earthworks.
All Lännen M models can be equipped with Lännen Line Systems. Check out the model:
Lännen 8600M
Lännen 8700M
Lännen 8800M
Want to hear more? Request our sales to contact you with a quote or more details!
Sales
We help you to increase your productivity and responsibility for the environment. Please consult our sales professionals for more information.