Lännen 8600M
All you need for infrastructure and public works, municipal engineering, and urban maintenance – Agile and fast multipurpose backhoe loader Lännen 8600M.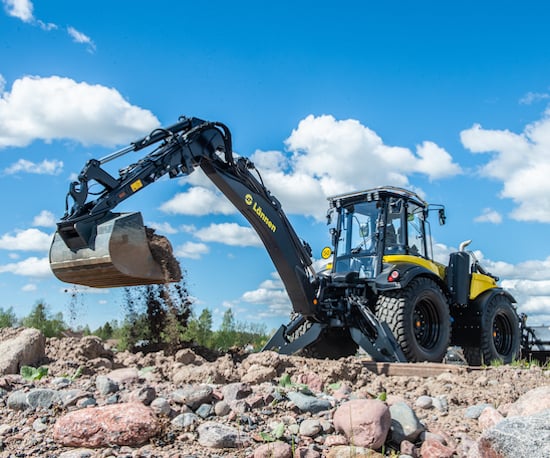 Are you on the market for an agile and truly multipurpose machine for a variety of projects? Lännen 8600M has powerful, precisely operating working hydraulics with a broad range of adjustments for the various needs of each task, work attachment and operator.

The most agile machine in its class thanks to the 42° turning angle of the articulation joint and ± 400 mm frame oscillation. Excellent all-round visibility increases safety when working in confined spaces and in dense areas.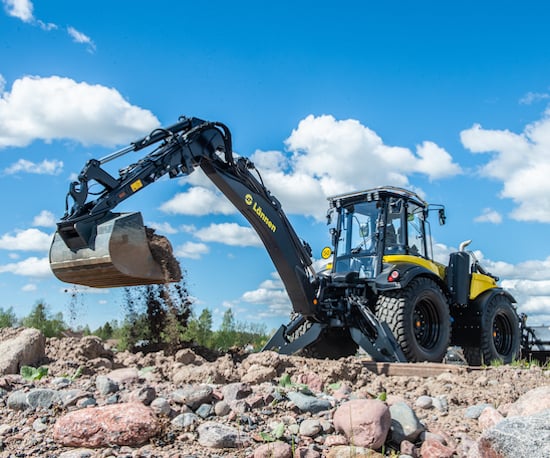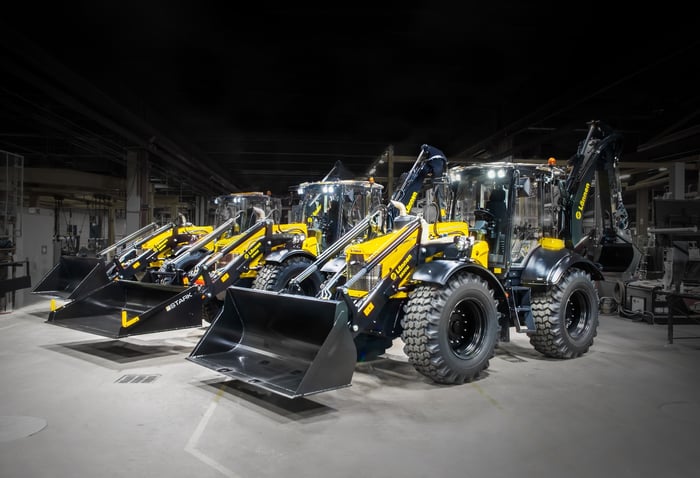 NEW M-MODELS:
TECHNICAL NOVELTIES WITH STYLE
The goal of the model range renewal was to refine driving and operating comfort, improve productivity and versatility, and reduce environmental impact. The multipurpose Lännen is designed with the driver, year-round productivity and the environment in mind. Ownership of the Lännen can be made more carefree with a maintenance contract and the
possibility of an extended warranty.
Maximum comfort with minimum emissions
In consideration of the environment
Reducing the environmental impact was one of our key design goals of the model range renewal. The M model engines meet the requirements of the Stage V emission standard and also enable the use of HVO biodiesel made from renewable sources.

Engine and hydraulic temperature control was improved with a more efficient fan and optimized air circulation. The drive hydraulics was also redesigned, and now the diesel engine speed remains lower at road speeds. This makes moving the machine more economical and environmentally friendly.
For the operator
In the M model, the working environment of the operator is even more comfortable and functional:
With a 10" touchscreen, navigation is logical and adjustments run smoothly
The high capacity cab heater and climate control ensures a pleasant working temperature all year round
The windshield stays cleaner thanks to the extended front mudguards
The rear window, which can be opened in different positions, received a much-desired new wiper
Special attention was paid to safety in the renovation of the cabin stairs
Tool boxes are available conveniently located in connection with the front fenders


Ease of maintenance
The Agco 49 LFTN Stage V engines are equipped with hydraulic valve lifters that reduce the need for maintenance. The machines are also equipped with maintenance-free batteries.

Exhaust aftertreatment system has been taken out of the engine compartment to provide better access to service points. A quick connector added to the hydraulic oil tank facilitates oil change, and the filter is also easier to change.

Heavy Duty underbody protection plating is also standard, which guarantees better protection than before. Its new division and hinged construction make it easier to access the service points below the machine.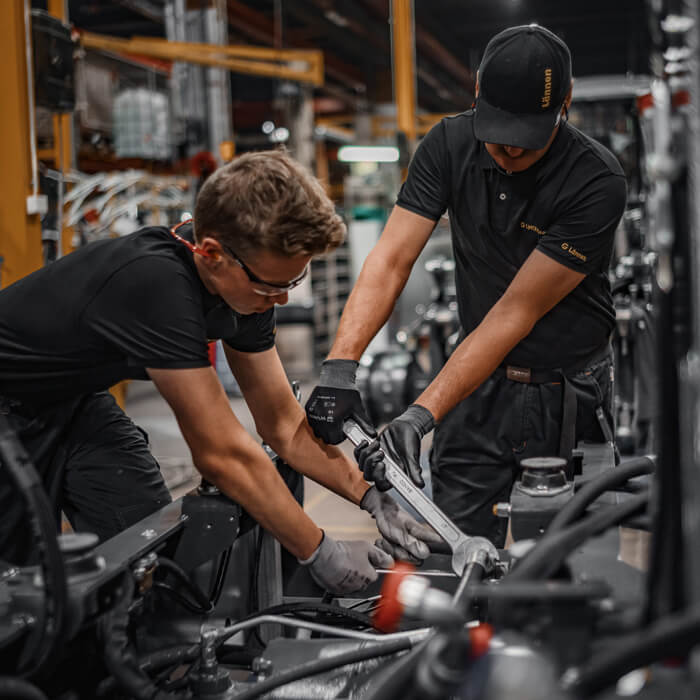 DESIGNED TO BE VERSATILE
— BUILT TO LAST
We design machines for your ease-of-use and with effectiveness in mind. One multipurpose Lännen is capable of tasks which traditionally have required several machine types to accomplish.
Lännen's solid, heavy-duty structure, powerful and versatile hydraulic system make it possible to use a wide range of robust and powerful attachments on both the loader and backhoe. In addition, the backhoe unit is detachable and it can be replaced with a rear tool carrier equipment and several work tools.

SMART PRODUCTIVITY
Settings for tasks, attachments or operators can be saved via display for quick recall. Multitasking with work tools attached to both the loader and backhoe, or carrying out successive tasks with a single set of work tools simply by changing the driving direction multiplies the versatility and productivity of Lännen to a completely unbeatable level.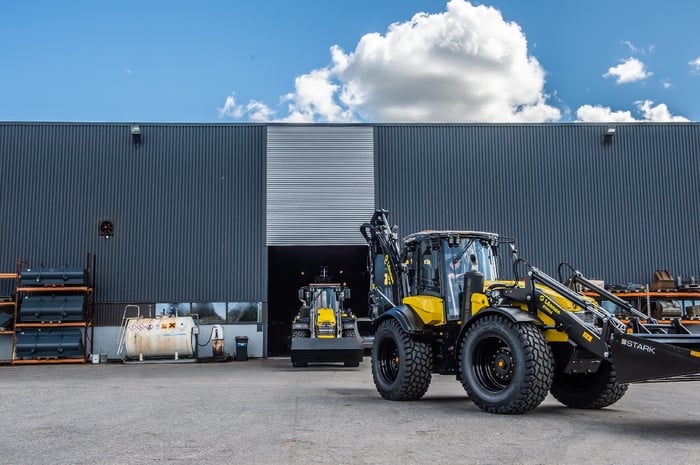 KEEPING YOU ON TRACK TO EFFICIENCY
The multipurpose Lännen provides smart productivity through first-class versatility and mobility.

With Lännen, you can cover a wide variety of applications throughout the year. It is smooth and safe to drive both on the roughest terrain and on the highway, as well as in densely populated areas and confined spaces.

The excellent overall economy of Lännen is a part of our high contribution to a sustainable development. With multipurpose Lännen, you can achieve more with less.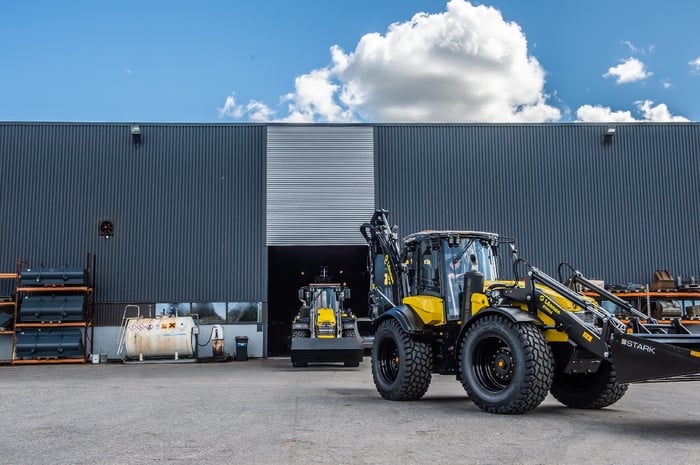 Technical information: Lännen 8600M
Download brochure: M-Models ready for heavy duty
Want to hear more? Request our sales to contact you with a quote or more details!
Sales
We help you to increase your productivity and responsibility for the environment. Please consult our sales professionals for more information.