A Finnish company Energiakaivuu Oy acts as a subcontractor for electricity distribution companies in the South and North Savonia region in Finland employing 14 people. Lännen multipurpose machines have been the trusted choice for them already more than a decade. The first machine was a second-hand machine which proved its necessity for versatile day-to-day tasks and assignments already from the beginning. Energiakaivuu is now having its third new Lännen machine, the Lännen 8800M with Lännen Line System, which was delivered already earlier this year.
Autumn is already well under way in the Northern Savonia, where Energiakaivuu Oy's Janne Järvinen is working with a Finnish network company Voimatel and their team to build a new power line.
There is a lot to do before the overhead line is ready for power transmission. The poles are transported to their place of installation and pits are dug to erect them. Once the poles are equipped with the necessary insulators and equipment, they are erected, after which they are ready for the necessary connections and wiring work. These tasks are also conveniently handled with the same machine, as the Lännen Line System equipment includes a personnel lift with a man basket and a pole grab.
And, of course, this is not the only type of work where Energiakaivuu takes advantage of the versatility of Lännen. At other sites, for example, it is used for underground cabling or various maintenance work. And every now and then throughout the year Janne's phone also rings to indicate that he must go to a storm site to help in repairing storm damaged lines. So, there is always plenty to do with Lännen regardless of the season.
- Company Energiakaivuu Oy was founded in 2010, and the first Lännen, a 740, was acquired as a second-hand machine. Year was 2014, says the Energiakaivuu's CEO Pasi Voutilainen.
- And there definitely was a need for a versatile and mobile machine like Lännen. That was clear, he continues.
In the early years, work was done more traditionally on rotating platform machines, which, of course, the company still has.
- Safety and efficiency were important as the number of poles increased, Voutilainen recalls.
- After the positive experiences with that first machine, we have always bought a new Lännen machine with Line System every three years or so, he says.
Multipurpose Lännen backhoe loader with Lännen Line System is extremely well suited to all the tasks in overhead and underground cabling. Excellent off-road capability makes it possible to work in all-terrain conditions regardless of the season. Working is very efficient because it can be done with a small crew of one or two workers besides the machine operator. The personnel lift with a pole grab increases safety because it can support the pole without anyone having to stand and work near the pole or the machine during pole erection.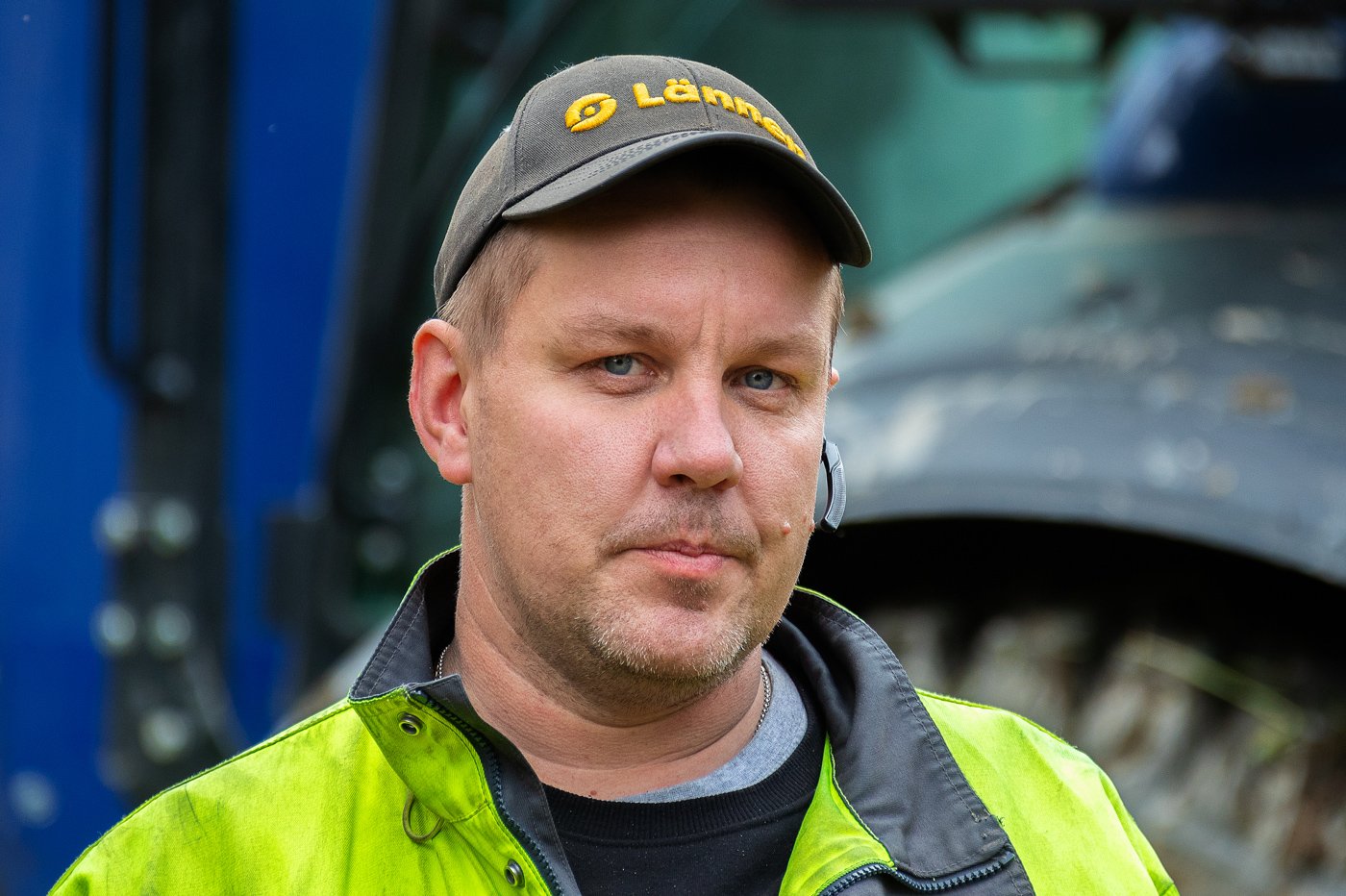 Driver Janne Järvinen is pleased with the features of Lännen multipurpose machine and the development of new features. After sales support has also been commendable.
Mandatory equipment
After the first used Lännen 740, the fleet has been upgraded with new 8800i, 8800K and now the latest with this 8800M. The results of Lännen's continuous and customer-oriented product development can been clearly seen for each new machine model. Janne Järvinen has acted as the dedicated driver for all of them. At the beginning, machine type was new for Janne, and it took some time to get used to work with heavy-duty articulated backhoe loader. But over time he has become familiar with these types of machines and would not give it away at all now.
- We have always been pleased with the Lännen. There is nothing to complain, I have been 100 % satisfied, Järvinen describes the common history with the multipurpose machines from Lännen, Finland.
- Whenever a new machine is purchased, we have told the factory about our experiences and views, and they have listened to us, says Järvinen.
According to him, various ideas have always been listened to and included in Lännen's R&D process and implemented in a commendable way.
- I couldn't hope for a better co-operation. Also, the after sales support has been up for the task whenever something is needed, even during weekends he describes and Pasi Voutilainen agrees.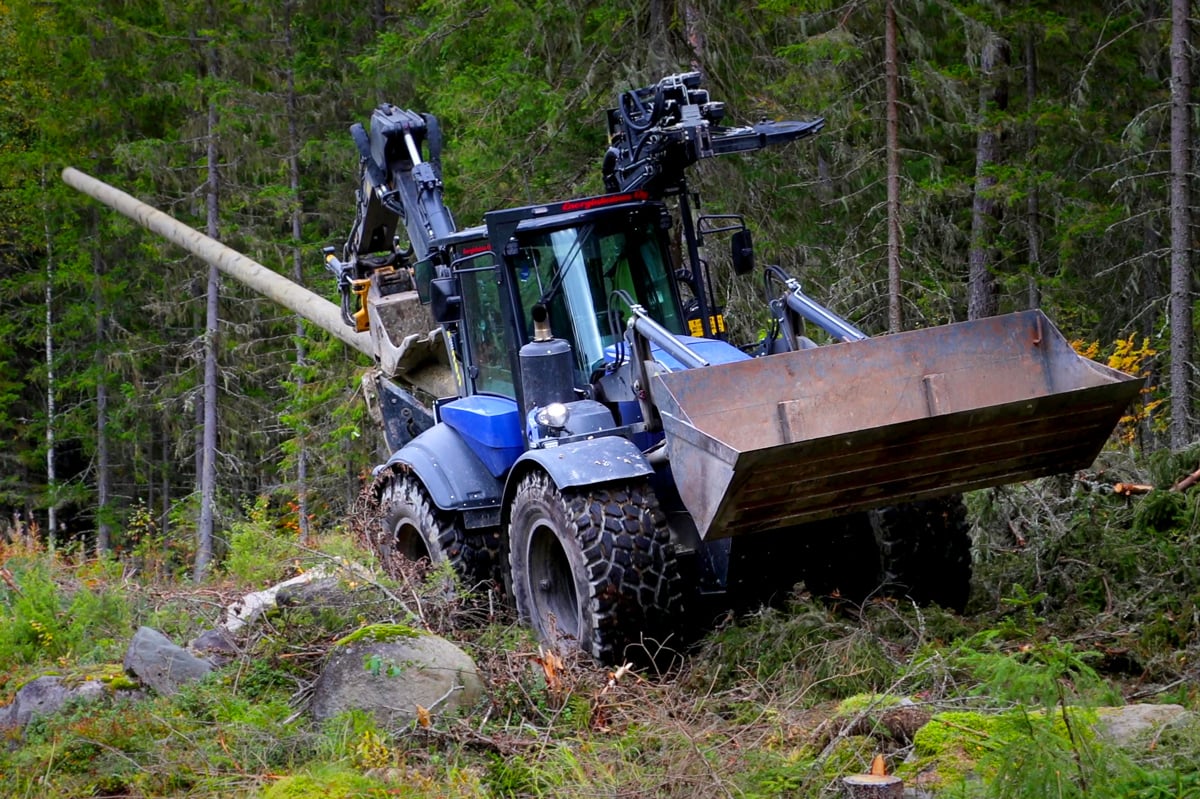 The off-road capability, mobility and reliability of the Lännen multipurpose machine are absolutely important features in power line building.
And once we're in a diverse terrain, we can't help it but just to wonder about the Lännen's terrain capabilities as power line work requires a machine with extreme mobility.
- Yes, Lännen is doing really well even in difficult terrain and conditions. I would say that you can drive it everywhere where you just dare. There have been quite a few really difficult places, and always the machine has proven itself, Janne laughs.
Nor, according to Järvinen, is there any complaint about reliability.
- Our previous K model had more than 6,500 operating hours, and there were no downtimes during the work weeks. Maintenance services were done during weekends and during the weeks the machine worked reliably.
The newest Lännen machine arrived during the first part of the 2021, so there is still plenty of operating hours ahead before the next new machine. What does it look like from the driver's point of view, will the next new machine be a Lännen too?
- If it's up to me, then of course, Järvinen assures.
Pasi Voutilainen also thinks that Lännen has earned its place among their operations.
Every job requires a Lännen. When there are aerial work platform and other well-functioning features in use, Lännen is a must-have for versatile power line work today, Voutilainen concludes.
Lännen 8800M driver opinions
Read more about Lännen multipurpose machines.
If you have any questions, just send us a contact request.