The City of Espoo has two Lännen 8600i multipurpose machines. Both are in heavy use for all kinds of street maintenance tasks. One of the machines has been fitted with a rear blade to further improve the high year-round utilization rate and bring new possibilities to the work.
The rear blade, made in Finland, is designed for removing packed snow and ice and does not restrict the use of the backhoe unit. The low support bars do not get in the way in urban environments. The bars are so close to the rear tyres that they do not easily hit the ground. The blade is available not only for new machines but also for all Lännen multipurpose machines from model I onwards.
The rear blade in action
We went to see how the rear blade works on a frosty day in Espoo. It had also been freezing the night before, so the ice had not been softened by the weather. The target was a very icy and rutted street in a residential area. Mr. Hasse Sandberg, machine operator for the City of Espoo, was confident that despite the challenging conditions, the street would become well maintained soon.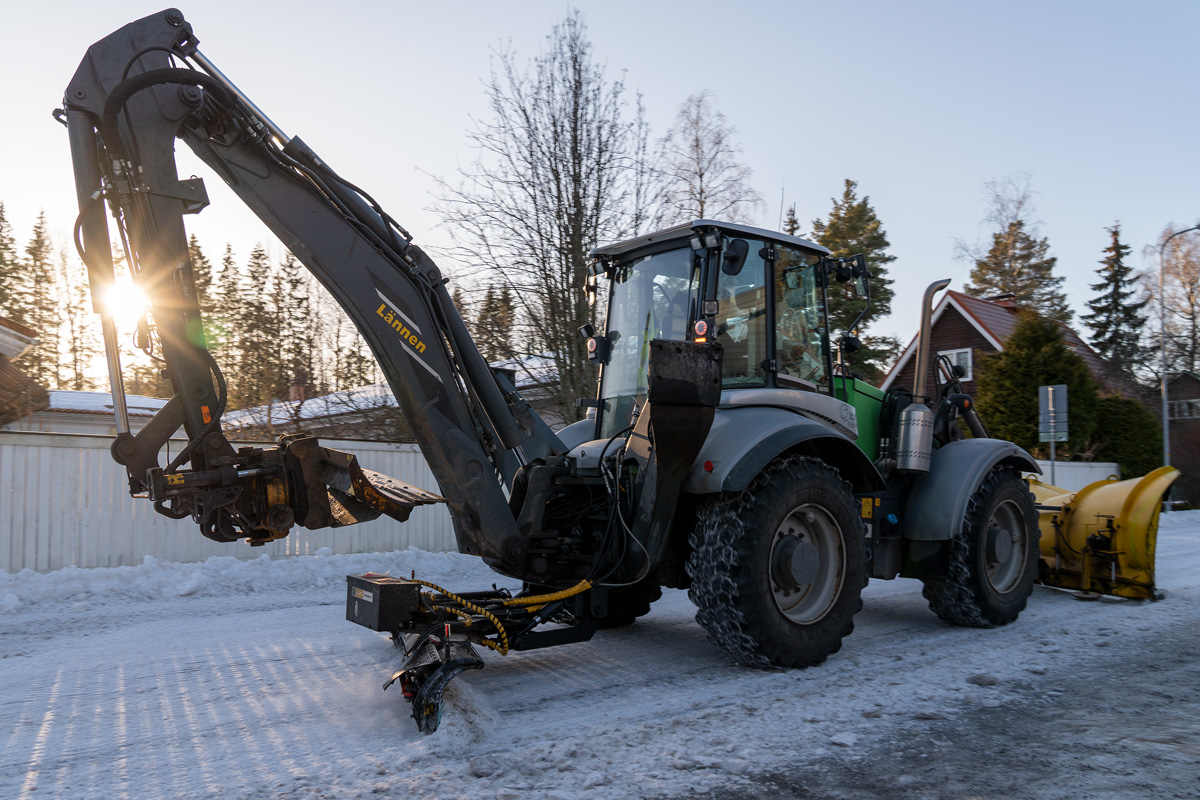 The grip is surprisingly good even without pins, although the blade bites the ice effectively. Small changes in the position of the backhoe unit can be made to give the blade enough weight if necessary.
- We were a bit surprised ourselves how well the blade works even with the hard ice, says Hasse.
quickly finished
In just a few passes, the blade flattened the rutted ice cover. The design of the blade and its pivoting mechanism is sufficiently rigid and, if necessary, small changes in the position of the backhoe unit can add the necessary weight to ensure that the blade bites effectively into the ice and does not jump on the uneven surface. Even without studded tyres or chains, there is sufficient grip.

- The blade is almost too grippy. Instead of a serrated blade, a pin blade might be a better option in some circumstances, Hasse continues.

After the driveway, the same treatment is given to the pavement, where the smallest Lännen in the range can easily fit to work. The result is a smooth surface that, after sanding, is firm and safe for motorists and pedestrians.
Read more about Lännen multipurpose machines.

If you have any questions, just send us a contact request.