Koneurakointi Tuuli Oy from Tortinmäki in Turku acquired their first Lännen multifunction machine second-hand. There was no instant need for the machine at that time; somehow, it just felt interesting. Before very long though, orders started to pour in and we have been fully occupied ever since.
In spring 2014, in the yard of Koneurakointi Tuuli Oy arrived an impulse purchase. The fleet of the company, which had earlier specialised in maintenance work using tractor-powered machinery, was completed by a second-hand Lännen 740 S, for which there weren't actually any clear plans. "The idea of buying it came out of the blue, as I thought that owning a machine like that would be quite nice" Tomi Tuuli explains five years later with a laugh. "There were times when we needed an excavator and at some other times we needed a loader, and that machine had them both" he continues. But before long, the law of supply and demand started to play a role. Together with the increased versatility of the company's fleet, the number of inquiries started to grow. Before long people started to offer us many different kinds of jobs" Tomi recalls his early days with Lännen. And after the line had opened, it was time to upgrade the fleet.
"When the company had right equipment in their possession, inquiries started to pour in."
"Our next machine was the 880C, which we later on traded up to this third one" Mr Tuuli explains, as we are following trenchless moling in Mellilä. The process is assisted by the Lännen 8600G, which the company had acquired second-hand in 2019. "I know the former owner of this machine, and I knew it had an excellent history. That's why I decided to buy this individual, even though there had been even cheaper used alternatives available at that time" says Tomi Tuuli.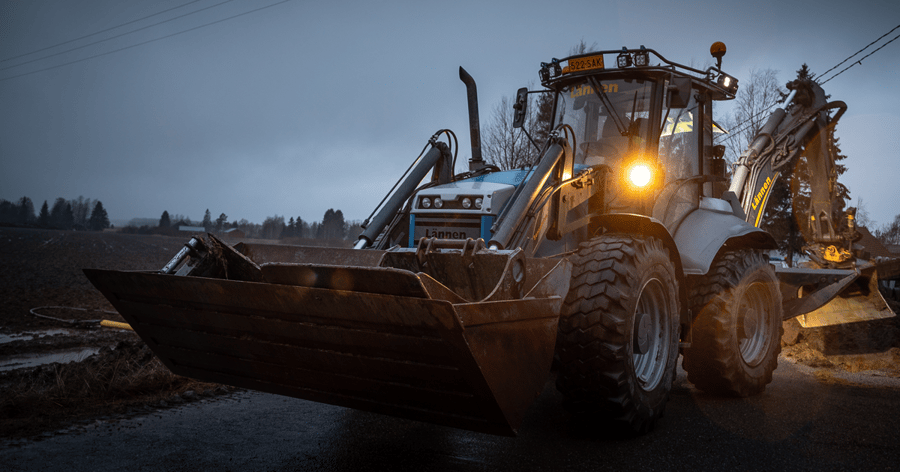 Tomi Tuuli says he bought the first Lännen machine just because of his interest in the machine type. "I thought it would be nice own a machine like that. But then work started coming in from various directions." Now we are operating our third Lännen multifunction machine in a row.
Old beliefs don't hold true anymore
This autumn, the machine has been actively used for subsoil cabling, where its versatile properties have proved to be indispensable. "Mobility is one of the important features of the machine, both on and off the road. As work sites vary and sometimes are far apart from each other, it's good that the machine travels fast. In the terrain, the driver often runs out of courage before the machine loses its grip" Mr Tuuli adds.

The operator, Tero Koponen, fully agrees with that, as he continues to complete the list of the machine's properties: "the backhoe has plenty of turning force even to the side. That is important, for example, during this trenchless operation below the road structure. Beats a 360-degree excavator anytime" he confirms. "A 360-degree excavator is mainly designed for digging towards the cabin, but this machine is also good at digging to the side" adds Mr Tuuli. Both men also share the same views about the versatility of the machine. "The different backhoe buckets and the other tools can be conveniently transported in the front bucket. Also macadam is easy to carry from one place to another at the construction site."

Mr Tuuli adds half-seriously, that he sincerely doubts whether a 360-degree excavator is good for anything. Then he explains to us why is he thinking so: "people often say that a multifunction machine can be used for doing many things, but none of them quite properly. I think it's quite the opposite", Tomi Tuuli says. "The operator of the Lännen machine must act on a principle that other machines are not good for anything, whereas his machine is suitable for every job. You just have to think creatively and learn how to do things with it" he outlines. This is also the way to employ the machine all year round. In addition to subsoil cabling, we use this machine also for dismantling old poles in the terrain, for ploughing snow and for brushing in the spring. So, indeed, for very varying and often even challenging tasks.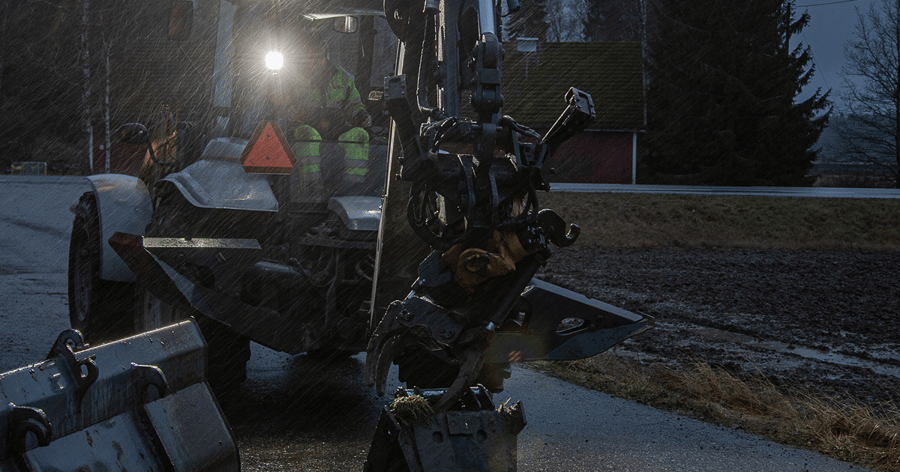 Compared with 360-degree machines, the 8600G, which was purchased second-hand, has proven its versatility, when working, for example, with lines.
Learning by doing interesting things
Next we start talking about the difficulty of finding skilled operators. Koneurakointi Tuuli Oy managed to employ Tero Koponen a few months ago, and it is evident that the cooperation between the man and the machine is very smooth - despite the fact that Mr Koponen, who was formerly a driver of forest machinery, did not have any previous experience of this machine type "Learning by doing is the key" that's what Mr Koponen says to those who inquire about how easy or difficult has it been to adapt to such a completely different new work environment. If you are genuinely interested, you can get a grip on almost anything. Tero Koponen thinks that the Lännen 8600G is a stylish work environment, indeed. Its hydraulic system is accurate, all the operating controls are logically positioned and everything is working just fine.

According to Tomi Tuuli, when it comes to reliability, purchasing a second-hand machine has met his expectations. "Initially, I was considering to keep the old machine, but the trade-in price offered for it was so high that I changed my mind. I didn't even think of any other options than Lännen" he concludes.


If you have additional questions, need a request for quotation or want our sales to be in touch with you, then click here.