LMCE Group's brands Lännen and Lundberg present news at the Swedish Machinery Fair 2022.
- We are happy to go to the fair with product news for both Lännen and Lundberg, says Joakim Berglund, Country Manager for Lännen Tractors AB.
For Lundberg we present a new model series with over 100 improvements. All the features that made our 50-series so popular remain, but we've taken the new 55-series to a new level.
Lännen releases two product news during the fair. Depending on personal preference, you can now choose whether you want Lännen's traditional control levers or maybe you prefer the new palettes with mini joysticks. Another big news for Lännen is the new L1200 personnel lift, which allows the use of personnel lifts and loader crane within the same lifting solution.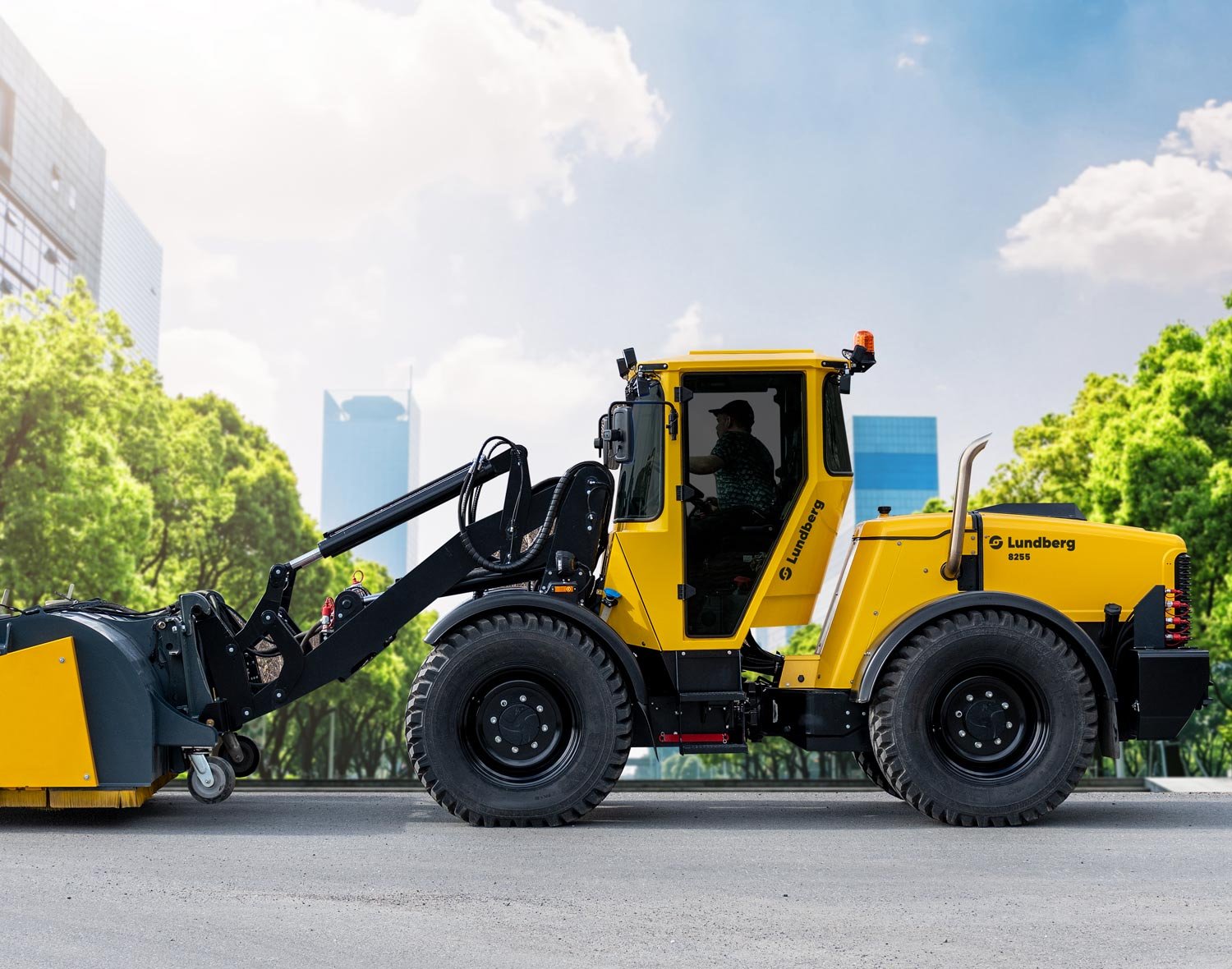 The new Lundberg 55-series, above a Lundberg 8255
Lundberg 55-series
For Lundberg, a completely new series is launched, the new 55-series. In 2019, Lundberg launched the 50-series multipurpose machine, which has been a great success. The new 55-series adds another dimension of improvements and features to our proven and popular tool carrier. Many of the new features are invisible on the outside but improve the machine's usability and comfort.
- The people that use our machines on daily basis are our best input when we develop our machines. Therefore, we have listened to the users and tried to make this 55-series even more user-friendly and versatile. According to our test panel, we have succeeded very well, Joakim says with a smile.
Safety, environmental awareness, efficiency, and reliability are very important for the entire LMCE Group and their brands. The new Lundberg 55-series is therefore equipped with the latest Deutz engine which has low emissions and meets the step V rules. Lundberg was also among the first to introduce smart functions to compact multipurpose tool carriers and they have been equipped with these for a long time. Features such as L-DRIVE and L-FLOW help the driver work more efficiently and safely. Other functions, such as L-SPEED, make transfers between workplaces economical and environmentally friendly.
In short, the focus in the development of the new 55-series has been on increasing comfort and safety to make the use of Lundberg multipurpose machines even more versatile and productive. It is a machine that can replace several other machines and perform many types of tasks, every day, all year round.
Lännen mini joystick
Lännen presents two new great solutions for their multipurpose machines. Now the popular Lännen also comes with the option to choose mini joysticks instead of Lännen's traditional joysticks.
- This is a requested and appreciated opportunity for drivers to adapt the machines to their own preferences even more, Joakim Berglund, Country Manager for Lännen Tractors AB explains.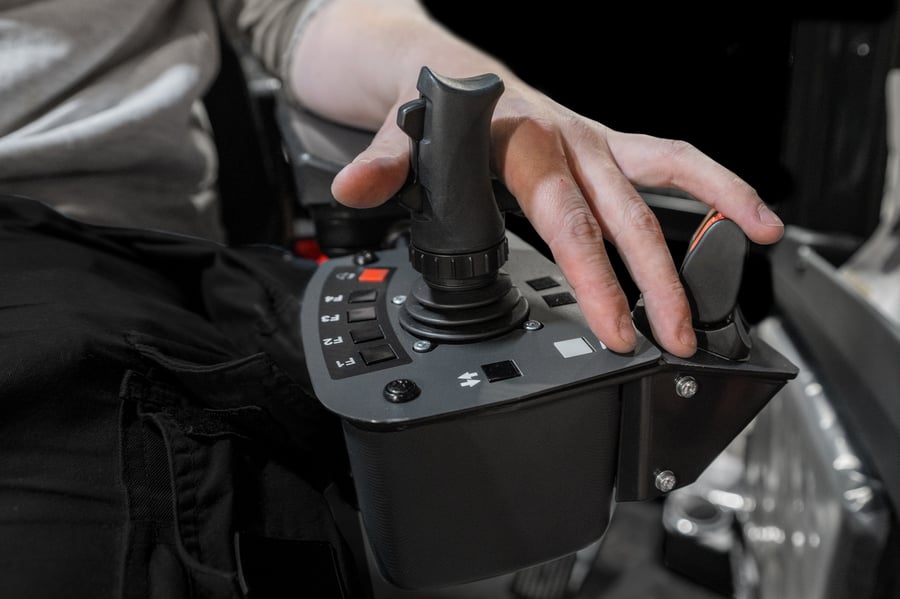 The new mini joystick from Lännen
- Some drivers are used to driving with a special joystick and Lännen is extremely responsive to our customers, and we want to meet their needs, therefore we have developed these mini joysticks for our machines, he continues.
Of course, you maintain Lännen's good driveability, maneuverability and good comfort and ergonomics, regardless of which of the joystick solutions you choose. We believe that a productive machine is adapted to the driver and that a Lännen should adapt to you and your driving style.
Lännen L1200 - versatile lifting solution!
The L1200 is our new solution that combines a mobile elevating work platform (MEWP) and a loader crane into a versatile multipurpose lifting solution. Lännen L1200 has been designed and developed especially for the needs of overhead line work and has a wide range of applications such as construction and maintenance work, infrastructure and tunneling work.

The easy and precise radio control means that the Lännen MEWP crane can be operated from both the cab and the passenger lift. Lännen L1200 is lightweight and has a low transport height, which is an advantage when driving in challenging terrain conditions.

Approved according to: EN 12999 (Hydraulic powered Loader Cranes) EN 280 (MEWP)
Quick-mounted one-man personnel lifting basket
Work tool mounting (to replace the man basket)
Motorized rotary grapple with triangular two-position mounting (Ø110 - 320 mm)
Electro-hydraulic control and radio control as standard. If the machine itself is equipped with a radio control, the L1200 can be controlled with the same radio controller.
Bolted mounting on the backhoe frame
Lännen L1200, the new versatile lifting solution
For more information, please contact: